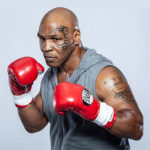 When you find someone in life who's 100% there for you, when you need them, that's a true friend. During some tough bad times, Tony's legal smarts helped me through like a friend. He's the best. The best.
Mike Tyson
Former Heavyweight Boxing Champ
The toughest, gig in the world is the court room. I wouldn't stand in front of a judge with ANY ONE ELSE but Tony. No lawyer ever fought so hard for me. He's my friend and a man that saves lives, saves careers and saves families. Just ask me. And the guys's gotta sense of humor! Ciao
Pat Cooper
Comedian
Not many attorneys have the tough answers and are not afraid to give them, like my friend and colleague, Tony Fusco. He knows his stuff...
Nancy Grace
Headline Legal News Analyst
If I told Tony my ratings "went up" with him on the show, he'd be talking to my producers about his OWN show! My guest Tony brings valuable opinions on legal issues. What a guest and what a man!
Montel Williams
Talk Show Host
It's our pleasure to share with you this photo, Tony. No kidding pal. You're the best. No lawyer like you. No friend like you. No one like you!
Chuck Wepner
THE Heavyweight Boxing Champion Legend
I highly recommend this firm. I was injured in a car accident and after hiring Mr. Macaluso I never had to speak with my insurance company again. Mr. Macaluso handled everything, was very responsive and professional. In his office I saw a picture of Mike Tyson, which he said he represented. In the end I was extremely satisfied and felt I received the same attention as Mike Tyson.
Michael Marinaccio
Client
Thank you guys so much for helping my fiancé , he's very satisfied with the results . This law firm was very concerned about our situation and made us comfortable with being able to contact them anytime we needed to just vent or ask questions . I give them so much credit and they definitely deserve 5 starz . Thank You for your help, will recommend you to others if needed . Keep doing a great job .
Ashley Harrison
Client
I had great consolation with the team of lawyers they are attentive and caring and put my mind at ease. I definitely recommend FUSCO&MACALUSO for any of you troubles or problems. They not just personal injury lawyers. They do it all.
TAP 2
Client
Very happy with decision to choose Fusco & Macaluso to represent me during my sticky situation. They were very helpful and professional and got me the best possible outcome!
Kevin Rodriguez
Client
I have been using Fusco & Macaluso since 1996 and I have had the best experience ever!!! They are very attentive and get the job done ✔
Barbara Wheeler
Client
I used Fusco Macaluso when I found myself in a motor vehicle situation where I was facing 9 points in my license for speeding and traffic offenses. I have never experienced a more attentive, honest, and professional attorney and group of people. These people truly care about your well being. I ended up not getting any points on my license, due to a good driving record and a great attorney. Fusco/Macaluso is the way to go. Thank you for everything! I'll never use another law office!
Alexa Dell'Ermo
client
This law office went above and beyond for every need I had. They fought for my case and never gave up. They were timely and professional. I was beyond impressed the entire time I worked with them.
Danielle Rovetto
client
I could not be more satisfied with the outcome from this firm! The attorney and staff did not stop working until we reached a fair result. I certainly recommend their service.
Montreal M
client
I was referred by a family member to Roy Macaluso and was very satisfied by the results of my case. Roy came threw beyond my wildest expectations and kept his word on everything that was promised. Very overjoyed-with his representation
Christine
client
They are competent on all levels, and informative. They will help you every step of the way. It was a pleasure doing business with them.
Alexandria
client
I swear by Roy Macaluso and he has fought tooth and nail for me in the past (and always won) but when I got served a TOR and was so taken back by it, he sent me downstairs to his best 2 literally Geniuses. Alexandra & Giovanna. Not only did they make me feel so at ease and comfortable but they kicked A**. I never had anything like this happen and they went through everything in major detail and literally reassured me on a daily basis I was good. When trial came. They were right. I won and they made the other party look foolish. Deff a Maverick and Goose Tag team! Thank you both so much for everything. You both were amazing!!!!! A+ Multiplied 1k times over.
Stephen Villani
Client
The team at Fusco & Macaluso completely did amazing for my case. CALL Roy Macaluso and team today for all your law needs! Such personalized service. I was never just another client. They did everything they said they would do when they said they would do it. Do not hesitate to do business with them. Amazing people too!!
john nouri
Client
Giovanna was the best! Got me a great deal and was extremely professional and responsive! With a case that got adjourned a few times she always called to discuss before each hearing and to remind me of the court date before hand. Definitely recommend
Amanda Davidek
Client
Quality attorneys who know the law and how to get you justice within the parameters of the legal system. The attorneys are well versed, resourceful and responsible to their client. The attorney-client privilege is well respected by all associates of Fusco and Macaluso. They are honest about the positives and negatives of your case and will plan a course of action relative to your case. This firm has the most experienced and aggressive attorneys that will fight to get you the compensation you deserve. The attorneys are always available to answer questions and walk you through the lawsuit process from start to finish. I was very pleased and highly recommend.
Aly Maestoso
Client
Alex and everyone here treated me with respect and complete professionalism from day one when i first went to them. Picking the right attorney can be stressful but they took all the worry away and helped me out with my issue. Very honest and truthful the whole way.
michael bucci
Client
I was injured in a motor vehicle accident and needed an attorney to fight for me. Roy and Dave did an outstanding job on my case. Their work ethic and passion towards all of their cases reflected in a wonderful outcome for me. I would recommend this firm to anyone.
Donna Maresca
Client
Amie along with the rest of the staff were nothing short of positive and reassuring during my criminal defense case. Talked me off the ledge multiple times and fought for me to obtain the best deal I could get. Have been a better person since dealing with them, Alexandra and Roy still check in on me and my family to make sure we are doing well. Great lawyers better people!
builtforwar1991
Client
This is my first time dealing with a Lawyer for a accident, Roy Macaluso made it so amazingly easy to understand, what I was going to go through in the up coming months. He is always available when needed, never once did I call and he didn't answer. It's amazing to find a Law Frim that cares and is always checking up to see how you are feeling, and asking is there anything they can do to help you get you through this!! Assuring me all will be okay !! I would highly recommend this Law Frim to all my friends and family. I know I'm in amazing hands!!!
Angela Salerno
Client
This was my first time ever having to work an attorney for a car accident. I am SO THRILLED I went with Fusco and Macaluso. Roy, David, and the entire staff were very responsive and walked me through the process every step of the way. I couldn't be happier. They did such a fantastic job and were tough as nails to make sure I was able to walk away happy.
Karyn S
Client
Roy and his team are phenomenal. Literally as aggressive as a lion to make sure you get what you deserve. This is my first time ever dealing with any lawyer regarding auto accidents and it was a pleasure. Roy didn't waste any time and being ridiculously busy still called me to check up on me which is unheard of today. Took me two years of treatment but a $31,000 check was well worth it and he was paid too! A win win. Highly recommended and If I ever need this kind of service again I already know who I will be calling.
Richard Lozano RD
Client
Outstanding & best representation I ever had. In my case, I ended up getting the best possible outcome and this was primarily due to the talent and devotion of Alexandra Macaluso Papuga. She never tried to rush, covered all the bases and made sure I fully understood everything I needed to too. Everything was done on a punctual & timely basis & she & her assistant were always available. I highly recommend this firm to others.
G
Client